Welcome to Jewel Safaris. We are a Uganda based tour operator, offering discount safaris to Uganda, Rwanda, Kenya & Tanzania. We offer gorilla safaris, wildlife safaris, mountaineering trips, culinary tours & more.  We are a team of most innovative guides that is dedicated to take our clients on the most memorable Safari possible by giving them special access to life changing experiences. Whether you are a solo adventurer, an intrepid family or a group of friends, let us guide you through the colorful landscapes and vibrant cultures of our incredible East Africa.
Most Popular Tours & Safaris.Whether you enjoy wild adventure expeditions and challenges, or quiet relaxation and serenity, we have great trips for you. From gorilla trekking trips to Bwindi Forest or Virunga to see the rare mountain gorillas to exciting adventures such as rafting on the Nile, extreme sports, bird watching, mountain hikes and treks, there is a lot we offer at incredible low prices. Below are some of the top safari offers;
UGANDAN ORGANIC  FOODS.
JEWEL SAFARIS understands that for most travelers, new food experiences can be very exciting.  African cuisine is very unique, not only in the foods that are used, but also in the way these foods are prepared.   In addition, almost all of the produce grown and the fish and meat are organic.    Uganda is a small country, but in terms of the cultural diversity, it is very big.  There are 45 distinct tribes in Uganda, many having their unique dishes.  In our endeavor to provide unique experiences for our clients, we have prepared information on the culinary pursuits of many of these Ugandan peoples.  This will enable you to explore Uganda with your taste buds and stomach as well as with your eyes, ears and feet.
Fruits and Vegetables:
Uganda is famous for growing the finest Pineapples in the world.  The combination of the nutrients in the soil and the climatic conditions, produce the sweetest, most flavorful pineapples  These are sold throughout Central and Southern Uganda; markets, supermarkets and street vendors sell hundreds of thousands of pineapples daily.  A number of juice factories exist in Uganda, as well as huge amounts of concentrated juice is exported daily from Uganda to many countries near and far.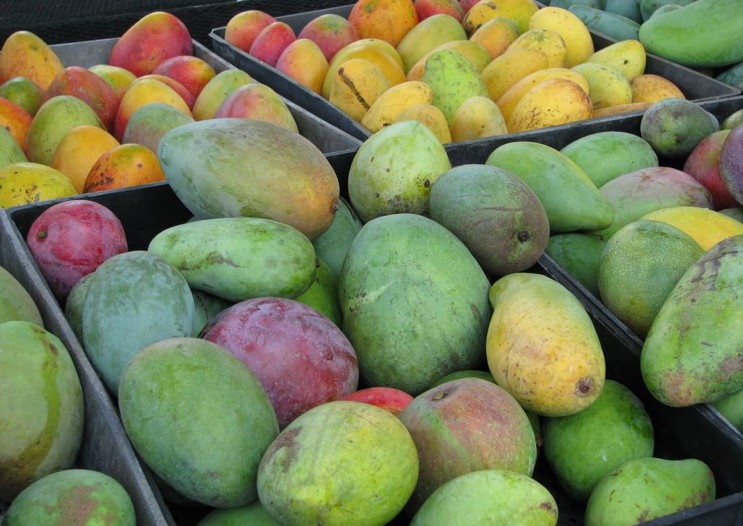 Mangoes are grown throughout the country, with the greatest concentration in the north-central and western regions.  Here, the seasonal mango growth results in mountains of mangoes on the side of the major roads, where growers are selling them to travelers on the road.  At these times, large mangoes, of various varieties can be purchased for a few pennies and many people fill up their car boots with mangoes for their friends and families at home.